Letter to my big brother, from Holly
May 11, 2002
Dear Phil, my big brother.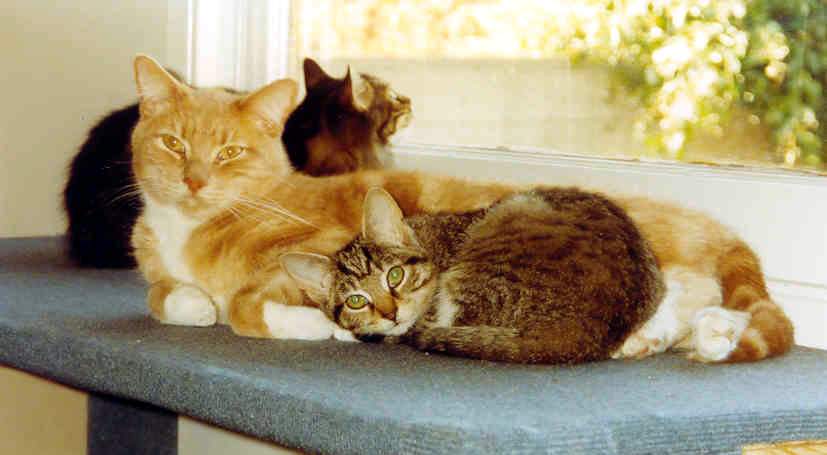 I meant to write you sooner, but Mom is always sitting in front of the computer and I didn't have a chance to type this until now.
How have you been? It has been 8 months already since you said good-bye to us and went to the Bridge. We all miss you very much. You have been nice to me and I used to snuggle up next to you when it was cold or when I got lonely. I do that now with Don. He's a gentle brother like you were to me. I think he misses you more than anyone (except for Mom, of course) because you and he were born together and brought up together. I think Mom thinks about you every day. I sometimes see her crying when she does something that reminds her of you, like taking the trash out, making a bed, or watching Don washing himself. You wanted to go out for a walk around the block on your leash when Mom put the trash out on Tuesday night. I always wondered where you two went. I don't think I like going out on a leash. I'd rather watch outside from the window like I always do when the big trash trucks go by the house. When Don washes himself, I know Mom always thinks about you because you and Don always washed each other's back. Now Don has no one to wash his back. He has to do it all by himself.
I don't know if someone at the Bridge let you know or not, but I also got that thing called "cancer." Mine is different from yours and it's called lymphoma. It was about a month after you were gone when I got so sick and stopped eating, so Mom took me to the hospital. I know it was really tough for Mom, but I have been fighting it pretty well. I was really sick at the beginning and Mom thought I was not going to make it and she thought I was going to join you at the Bridge any day. Well, much as I would love to see you again, I'm not really ready to say good-bye to the rest of the family and Mom, not just yet. I see the doctor at the hospital you and Mom went. The doctor has been helping me with lots of chemotherapy treatments to make my tumors shrink and get rid of the tiny lymphoma cells going around my body. Some drugs make me feel really crappy and wiped out. When that happens, I don't feel like eating at all. But Mom makes sure that I have enough nutrients to fight the cancer by giving me some food with her finger. I'm grateful for her help, but when I feel crappy, I can't help feeling crappy. I hope she understands that I don't hate her but I just don't feel like eating when I'm wiped out.
Mom and I got to know lots of other cats and their human parents through the online support groups. Some of these new friends have gone to the Bridge after their cancer got too much for their bodies. The parents of these friends love them so much that they let them move on knowing they are going to hurt so much from heartache by doing so. Just today, I heard from Mom that my friend Rookie crossed the Bridge last Saturday. I have never met Rookie but judging from what Mom has been telling me, she sounded like a wonderful, loving cat with lots of purrsonality. It made me so sad to hear the news. I snuggled with Mom to let her know that I feel the same way she does. Did you see Rookie at the other end of the Bridge? She's a little older than you are but she's a cute and fluffy, black-and-white girl. I'm sure you'll like her. When you meet her, please tell her that we are all sending her lots of love, and that her mom, Stephanie, misses her so much but she knows that Rookie is free and healthy again and knowing that makes her feel a tiny bit better.